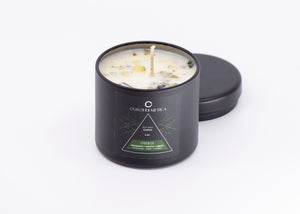 Osiris Ritual Soy Candle with Botanicals & Citrine
Sale price Price $16.00 Regular price Unit price / per
Osiris is fresh and bright, like a field of greenery in the damp spring. It is energetic, and lightly lingering, reflective of it's intent of abundance and harvest.
This ritual candle is made with the intention of manifesting abundance. Invoke Osiris by using this blend for long-term "harvest" goals - career, family, wealth.
These candles are made lovingly with 100% soy wax, no parafins or fillers.
Botanical & Gemstone Blend: Patchouli, Hemp, Bay, Citrine
Fragrance notes: Patchouli, hemp, cypress